Scheduling Tips for Essentials 2nd Edition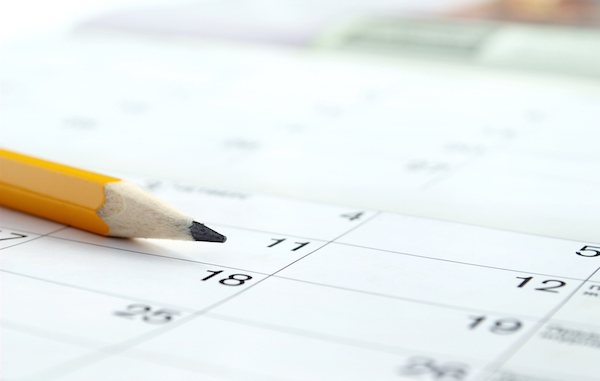 One of the changes we made when we updated and expanded Essentials in 2015 is that each unit is now divided into five parts for ease of scheduling. However, this more structured guidance is still just a starting point for a variety of pacing possibilities, depending on the student and the situation. Here are some ideas for making Essentials work for you.
What is the basic structure of the units?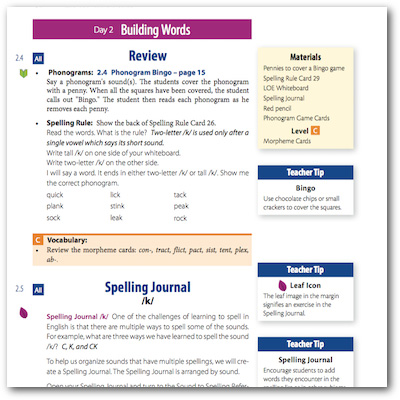 Part 1: Essential Concepts.

Phonograms, Exploring Sounds, Spelling Rules.

Part 2: Building Words.

Spelling Journal, Spelling Analysis (using spelling list A, B, or C).

Part 3: Words in Context.

Spelling Game, Grammar, Dictation.

Part 4: Words in Action.

Vocabulary, Dictation, Composition. Optional: The Essentials Reader (more on this later).

Part 5: Check Your Understanding.

Review and formative assessment.
Each of these five parts is designed to take 45-60 minutes. They build systematically on each other, and review is incorporated throughout. At a pace of one Part per day, you will teach a unit a week and complete the first half (Pre-Lessons and Units 1-15) in about a semester and the second half (Units 16-30) in about a semester.
However, depending on your students and schedule, you may find that it works better either to move more slowly or to increase the pace for an intensive remediation course. Many people spend two weeks on each unit and take two years to cover all 30 units, for example. Here are some suggestions for slowing down the pace, as well as some for those who want to speed things up.
Scheduling Suggestions for Essentials Only
These schedules are designed for those using Essentials only, whether throughout the school year or in an intensive remediation period for a struggling speller or struggling reader.
Scheduling Suggestions for Essentials with The Essentials Reader
These schedules incorporate both Essentials and The Essentials Reader, an optional reading comprehension supplement, which provides a fiction or nonfiction text as reading fluency and comprehension practice for each Essentials unit.
Creating Your Schedule: Overall Tips
Practice the phonograms every day! If you are splitting the units into smaller chunks, or teaching Essentials only two or three days a week, add in a favorite phonogram game, flash card drill, some practice with the app, or phonogram dictation on days that don't have phonogram practice already. Students progress more quickly with frequent, short reviews.
Base the pace on what works for the student. The best pacing and amount of time per day will vary. Pay close attention to whether the students are mastering the material effectively and are ready for more challenge, or whether they are getting overwhelmed. Let students help you determine whether they need more practice before going on to the next concept.
Allow time for the Placement Test and optional Pre-Lessons at the beginning, especially with a struggling reader. Depending on the student, you may need one to ten days for this section.
Final Thoughts
Please keep in mind that these guidelines are tools, not rules! We made Essentials flexible on purpose so that you as parents, teachers, and tutors could adapt it to the needs of the students you teach. You should pace the units in Essentials in whatever way works best for the age, attention span, ability level, learning style, and schedule of your students. The most important factor to keep in mind in planning an effective unit schedule is the need for frequent practice and review so that students learn the phonograms and spelling rules to the point of mastery.
If you are using Essentials 1st edition, we recommend these scheduling tips designed for that edition.